OUR MOST ESOTERIC BOOK
Balance Point Feedbackl Table of Contents | Reviews
(only $7.00 - Paypal and CC accepted)
---
BALANCE POINT
Searching for a Spiritual Missing Link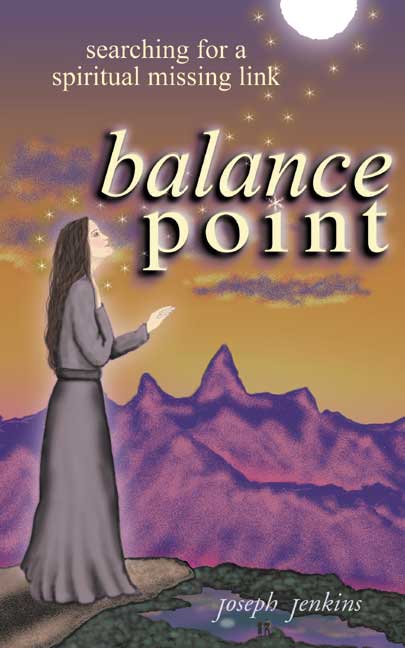 "Each moment in life marks an invisible boundary between the past and the future. Any of those moments may become a pivotal one that changes your life, veering you off course-- and sending you into uncharted territory with no hope of ever returning."
Published September 2000, ISBN 0-9644258-5-8, 298 pages, illustrated.

---

Only $7.00 - Paypal and CC accepted.

The print book is no longer available new (it's out of print).

---

"Is global ecological collapse approaching? Award winning author Joseph Jenkins has woven a mysterious tapestry of theories, principles and facts about the Earth and the species Homo sapiens into a thought-provoking, enlightening, and utterly disturbing book. Remarkably timely, this page-turner is a must-read for all those who are concerned about human consciousness and our collective future."
Dire predictions and alarming warnings by the world's scientists indicate our planet is out of balance and a planetary ecological collapse is impending. Most Americans, however, don't seem to understand the urgency of our precarious situation here on Earth. Why the widespread lack of concern as our planetary life support systems disintegrate around us?

Until her sudden and inexplicable death in 1999, Dr. Lucille Boggs, a maverick scientist at a large western university, had been uncovering surprising answers as to why people are so indifferent to environmental degradation. Balance Point tells the story of her research through the eyes of her nephew, who receives her Last Will and Testament and, with it, becomes her final hope. Lured by the promise of a rich inheritance, Joseph Jenkins reluctantly assumes responsibility for finishing Dr. Boggs' work, inadvertently plunging himself and his family into the midst of a puzzle of global proportions.

Balance Point takes the reader on a page-turning adventure from the author's comfortable Pennsylvania home to the farthest reaches of civilization in a search to solve Lucy's puzzle. On their quest to locate the missing links to her mystery, though, they discover that some answers lie closer to home, and that sometimes, the only way to find them is to look inside oneself.

A timely book with cutting-edge relevance, Balance Point's message is one that will be carried with you long after the last page has been turned. Although highly recommended for anyone concerned about the state of the planet, it also makes a great gift for the environmentally complacent.
Readers and Reviewers Comment
The Book Reader: "Jenkins tackles the vital subject of our looming ecological disaster, and takes us on an entertaining trek throughout the world. A delightful new slant on our environmental mess in a wonderful tale told with passion, wit and insight."

Today's Librarian; August 2000: "An engaging and enlightening book - as well as a disturbing warning to us all."

Arkansas Envir. Educ. Assoc. Newsletter: "AN INCREDIBLE ENVIRONMENTAL JOURNEY OF DISCOVERY - Every now and then a book comes along that really speaks to your heart. 'Balance Point: Searching for a Spiritual Missing Link' by Joseph Jenkins was such a book for me. It is perhaps the best environmental book I have ever read and I would like to encourage everyone to experience this book. "
---
Download the E-Book (only $7.00 - Paypal and CC accepted)
More Reviews and Reader Feedback
---
Other books by Joseph Jenkins: